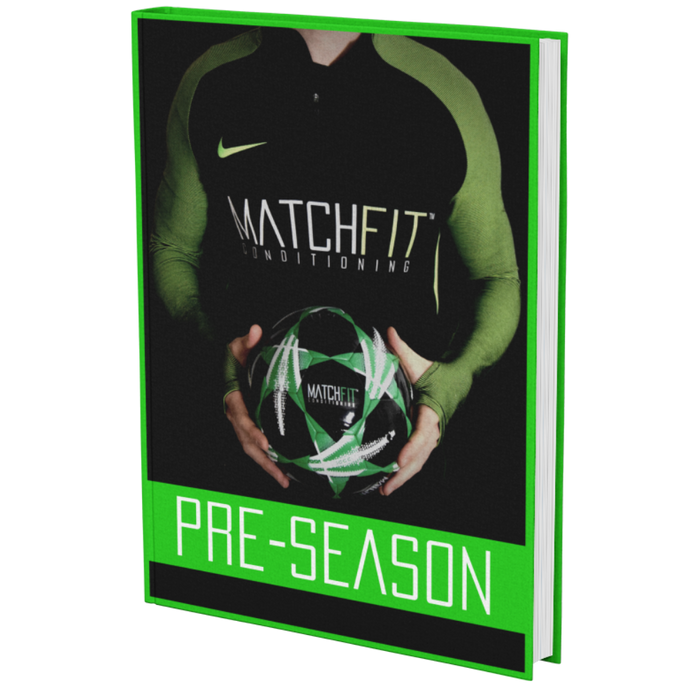 Pre-Season Training Programme
Save

32

%
Original price
£39.99 GBP
Are you looking for a comprehensive pre-season training programme that will leave you feeling confident and ready for the upcoming season?
Are you feeling anxious about pre-season training and the pressure to be in top shape?
Look no further than the Matchfit Pre-Season Programme.
Our scientifically-backed programme offers a day-by-day plan that you can trust to crush your fitness worries, leave you feeling confident and get you in top shape.
Over the course of 10 weeks, this programme covers every aspect of football-specific fitness, ensuring that no stone is left unturned and that your body is fully prepared for the season ahead.
This isn't about SMASHING your body to within an inch of its life in the hope that you will "shock" it into increased fitness levels...
...Instead each element is carefully matched, blended and progressed over 70 days - with the result being that you feel mentally and physically superior with EVERY session you complete.

With an average time commitment of just 45-60 minutes, 5 days per week, this programme is designed to be followed independently, giving you complete control over your training.
You will need access to a standard gym, a ball, a set of markers, and a pitch or field.
In addition to improving your:
✅ Stamina
✅ Speed & Explosiveness
✅ Agility, Mechanics & Footwork
✅ Balance & Co-ordination
✅ Mobility & Flexibility
✅ Muscular Endurance
✅ Lean Muscle Mass
✅ Maximal Strength & Power
✅ Body Composition
✅ Injury Resilience
✅ Speed Of Recovery

...this program also incorporates ball work in pitch drills to challenge your skill and technique at speed whilst fatigued.

No longer do the words "PRE-SEASON" strike fear into your heart and create panic as you stress about being fit enough to avoid being embarrasingly off-the-pace once the season starts.
The quality of any players pre-season training programme will literally make or break their season (and many players don't realise that).
It's also the ONLY time of the year where you can train one EXTREMELY important element.
Why risk getting your pre-season training wrong? Trust the proven and science-backed Matchfit Pre-Season Programme.

✅ One-time purchase, LIFETIME ACCESS.
✅ This programme comes in PDF format with all videos and guidelines within so that you can easily follow the programme from your mobile device or desktop. After you complete your purchase you'll instantly receive an email with a link to download the PDF programme.
✅ Includes 30 days FREE community 1-1 support
✅ For players aged 14+

Includes 60 Day 100% Satisfaction Money Back Guarantee