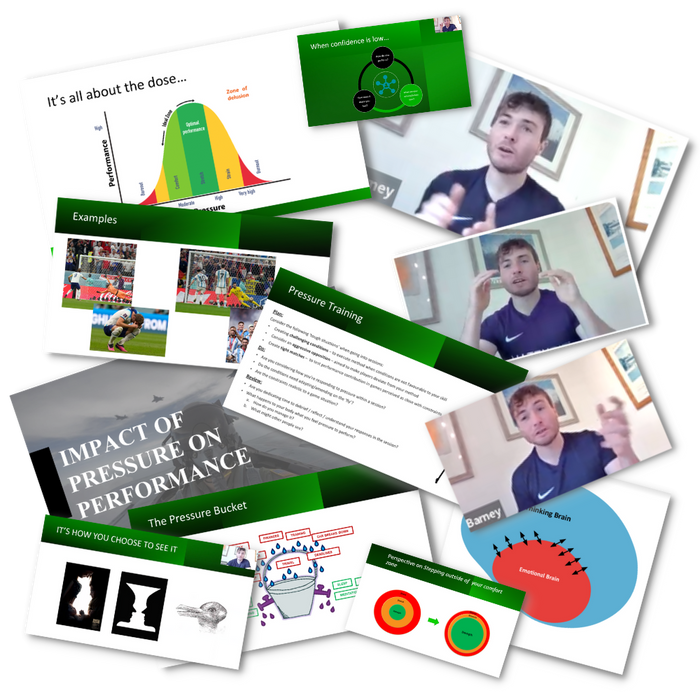 Football Psychology Video Course Bundle
Save

70

%
Original price
£320.00 GBP
*This is all-new training which is not covered in any of our other mindset products.*
What's covered in this workshop video course bundle is exactly what's being taught to Premier League Academy players, coaches and parents now in 2023 to prepare them for 1st team top flight football.
This bundle includes replays of the following workshops that you can get instant access to:
Confidence

Excelling Under Pressure

Developing Mental Resilience

Goal Setting & Visualisation

Strategies To Use During A Match 

Controlling Automatic Negative Thoughts (ANTs)

Managing Transitions In Football

How The Brain Develops in Youth Players
There's over 8 hours of high level mental training covered, just imagine how much it would cost you to get the same insights from 1-1 sessions with a sports psychologist!
These workshops are delivered by Sports Psychologist Barney Wren and Matchfit Football Founder James Donnelly.
Check out the video above for a sample of what's covered.
Don't miss this opportunity to further master your mindset on the pitch and transform your performance. 

Perfect for players, parents and coaches.
Once you complete your purchase you will instantly receive an email containing the links to download the workshop videos.
✅ One-time purchase, LIFETIME ACCESS.
✅ Includes 30 days FREE community 1-1 support