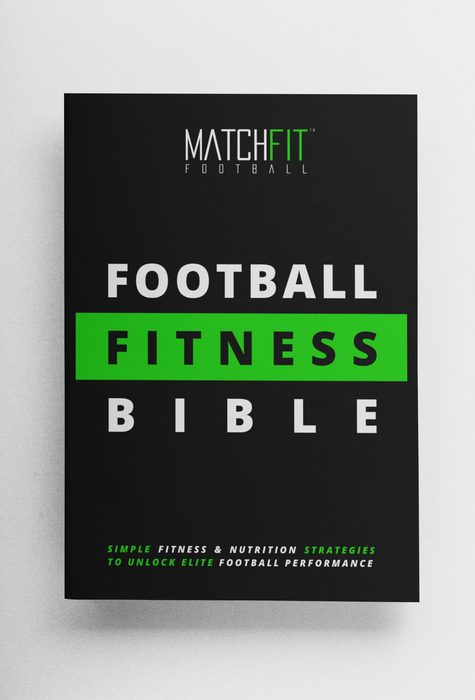 The Football Fitness Bible (EBOOK)
Save

30

%
Original price
£19.99 GBP
Whether you're a player, a coach or a parent of a serious footballer, this book is for you.

❌ It's NOT just another generic football coaching book.

❌ It's NOT a book about how to morph into Cristiano Ronaldo within the next 90 days (run from anyone telling you it takes anything other than years of dedication to reach his level of fitness.)

❌ It's NOT about how to take shortcuts which will come back to bite you further down the line.

❌ It's NOT about skills training – though you will see why this stuff will make your performances hard to ignore to onlooking coaches, allow your skills to flourish to a much higher degree and enable you to have much greater impact every time you step onto the pitch.

❌ It's NOT about doing more training, giving up your social life or investing in expensive supplements – though it will make the training you do far more efficient, effective and prime your body to perform in every training session and match.

The Football Fitness Bible is For Footballers Who Are Serious About Playing At A Top Professional Club & Representing Their Country

Here Are A Few Of The Little-Known Strategies You'll Uncover:

⚽ How to increase shot power - without even touching a ball. Page 51.

⚽ Page 69: Strength training during the season - what to focus on and how to schedule it into your week. (It won't lead to over-training when you follow our guidelines and it will increase muscle activation ready for match day, don't miss this section.)

⚽ The key priniciples of football specific speed and agility training. (If you struggle being first to 50/50 balls, then this section is a must. On the football pitch there's so much more to being fast than simply running at speed - starting on page 85.)

⚽ How to decelerate quicker...believe it or not, the fastest players are always the one's who can STOP quicker than other players. (Essential in evading tackles, finding space and making sudden changes of direction. You'll see exactly how to do it on page 101.)

⚽ The secret reason why top pro clubs NEVER let their players take an ice bath during pre-season. (This is an extremely common mistake, you could be sacrificing all of your hard pre-season efforts if you do this. Page 130)

⚽ Pg. 167: The common diet and fat loss strategies which footballers must avoid at all costs (and one's which we do recommend too).

⚽ Football "superfoods". (Page 221)

You've been training for years, but you still can't seem to make the step up to the next level. You know that your fitness is the main reason why you aren't getting picked up by a pro club or called up to represent your country. You just don't have the tools and knowledge required to take it to the next level. That ends today!

✅ The single most important eating strategy to flood your body with energy before kick-off…without feeling bloated or sending you running to the toilet! (When you get this right, you will feel poised to perform at the start of every match.) Pg 197.

✅ The household root vegetable which has the little-known superpower of widening your blood vessels, unleashing a higher level of stamina…(Sound to good to be true? We've included the science to back it all up on page 290.)

✅ The 4 key elements of strength training that must be addressed in order to add lean muscle without slowing you down. (See the actual graphic you'll want to memorize, print out and tape to your wall so you can reference it daily. Page 17)

✅ How BAREFOOT training can make you a more powerful player at the same time as correcting imbalances which are causing you pain in a completely different area of your body. (Many players are actually triggering their own injuries because they are overlooking the way in which their feet interact with the ground. On page 42 you'll see a new approach that will change your season.)

✅ How you could SAVE HUNDREDS on physio appointments each season by simply correcting your squatting technique...(On page 15 see the break-down of the issues to look out for and what problems they could be creating.)

✅ Why stretching your hamstring to get rid of tightness will never solve the problem and what to do instead. (You'll kick yourself when you learn this. Page 117 shows you exactly what to do.)

✅ How the food you put in your mouth influences your ability to focus and think clearly under pressure. It's called the gut-brain network and it directs the behaviour of your brain, what's happening in your gut can even make it harder for you to learn new skills. (On page 157 you'll get the formula for ensuring your gut health isn't hindering your mental clarity in training and matches.)

✅ If you're a goalkeeper, we've got you covered too. On page 214 we outline how your dietry needs differ from outfield players in both training and matches.

✅ Pg. 67: The step-by-step PRE-SEASON training process which must be followed to avoid sabotaging your fitness gains and significantly increasing your chances of injury come the start of the season.

Here's A Sneak Peek At Some Of The Contents:

The Importance Of Mastering Functional Movements
The Different Types Of Strength
The Benefits Of Strength Training For Football Performance
Can Young Athletes Train With Weights?
How To Activate Your Glutes & Why
The Benefits Of Training Barefoot
The Benefits Of Training On Unstable Surfaces
How To Increase Shot Power
How To Increase Throw-In Length
How To Have More Powerful Headers
Should Footballers Use Olympic Lifts?
Blood Flow Restriction (BFR) Training: Can You Benefit?
Why Your Performances Plateau
Strength Training During The Season
How To Train Stamina In A Football Specific Way
The Pro's & Con's Of Treadmill Training
Can Training Masks Make You Fitter?
The Essentials Of Agility Training
How To Speed Up Your Footwork
Will Ankle Weights Give You Faster Feet?
The Connection Between Nutrition & Mental Performance
What's The Ideal Body Fat %?
Should Footballers Do Intermittent Fasting?
Is Carb Cycling Good For Footballers?
The Pro's & Con's Of A Vegan Diet
Is Bread Bad For You?
Pre-Match Nutrition
Half-Time Nutrition
Post-Match Nutrition
The Effects Of Alcohol On Recovery
Nutrition During Ramadan
Nutrition For Goalkeepers
Great Food Options When You're On The Road
Football "Superfoods"
And Much More!

✅ For players, coaches and parents of all ages

✅ Includes 30 days FREE community 1-1 support
Click 'Add To Cart' & Grab Your Copy Now!

*PLEASE NOTE:* THIS IS THE EBOOK VERSION OF THE BOOK, it will be instantly delivered to your email inbox when you complete your purchase.
The physical version is only available to purchase on Amazon. You can order the PHYSICAL version of the book on Amazon HERE.