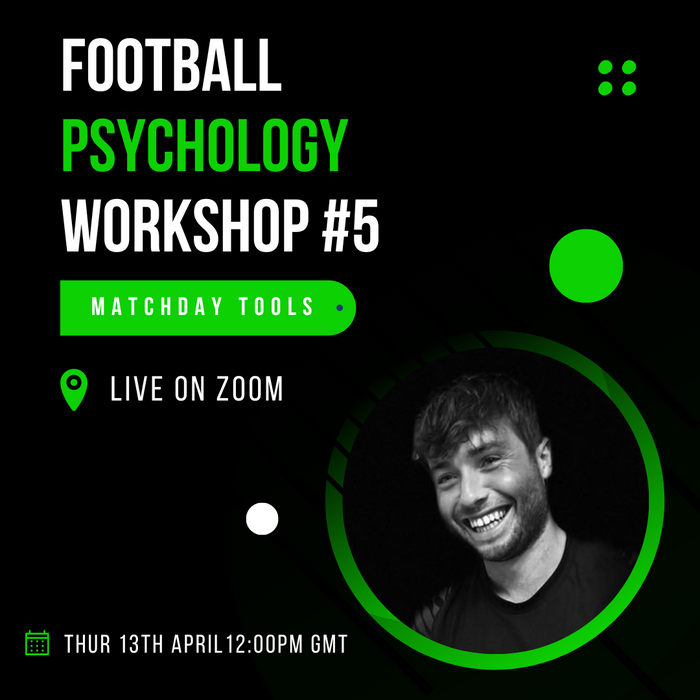 Matchday Mindset Tools, Strategies & Implementation Workshop Replay
Save

57

%
Original price
£39.99 GBP
During this workshop, you'll learn valuable mental skills that you can adopt before, during, and after training or games.
Our Premier League Academy Psychologist Barney Wren will show you how to use visualisation to:
Enhance your athletic movement
Increase your concentration
And reduce the pressures of competition
But that's not all - he'll also share effective grounding strategies that you can use in-game to help you stay focused and confident.
Whether you're feeling overwhelmed, anxious, or stressed, these techniques can help you regain your composure and perform at your best.

The workshop also explores real-life examples of athletes who have successfully applied mental skills to their game.
By understanding how other players have leveraged these techniques, you'll be better equipped to apply them to your own game.

But the benefits don't stop there!
We also show you how to review your performances and adapt as the season progresses. By doing so, you'll be able to identify areas for improvement and continue to grow and develop as a player.

Perhaps best of all, this workshop will give you practical strategies that you can implement during a match to significantly increase your performance levels and enjoy greater freedom on the field.
By leveraging these techniques, you'll be able to play with greater confidence, focus, and enjoyment.

By the end of the session, you'll have a toolkit of strategies that you can use to elevate your game and excel in high pressure situations.

So don't wait - grab the workshop recording now to keep for life!

✅ Includes 30 days FREE community 1-1 support