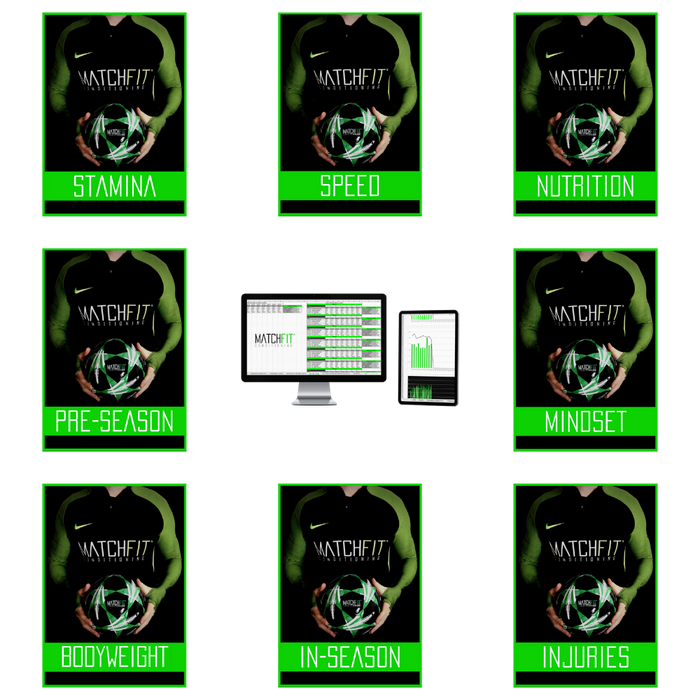 Full Bundle
Save

41

%
Original price
£331.91 GBP
Current price
£197.00 GBP
All of your football fitness training planned out and ready to follow for 12 months, so you can have more impact in matches, stand out to scouts and finally play with freedom!

Check out the reviews at the bottom of the page so you know what results to expect!

What's Included:

✅ Pre-Season Programme
✅ In-Season Programme
✅ Football Nutrition Guide
✅ Football Mindset Transformation Programme
✅ Injury Prevention & Rehab Programme
✅ Fat Burning Programme
✅ Speed Programme
✅ Stamina Programme
✅ Digital Testing & Tracking System
✅ 1-1 Support Via Our Private Player Community

Built upon the principles of our science-backed training philsophy - The MESSI-N Method (Mindset, Endurance, Speed, Strength, Injury Prevention & Nutrition)

Here's an example of how a player from the UK may schedule their seasons training:

 Here's Just Some Of What's Covered:
✅ Strength Endurance, Hypertrophy, Power & Max Strength
✅ Agility & Fast Footwork
✅ Movement Mechanics
✅ Meal Plans & Eating Strategies
✅ Match Day "Body Priming" Routines
✅ Stamina & Endurance
✅ Quick, Mid-Game Mindset Shifting Strategies
✅ Analyse Your Daily Training Data On Automated Graphs
✅ Melt Away Stubborn Body Fat Whilst Getting Lean & Supple
To Complete Every Session In The Bundle You'll Need:
✅ Access to a standard gym (exercises can be easily adapted depending on equipment available)
✅ A ball and a set of 20 markers minimum
✅ A pitch, park or field (sessions dimensions can be adapted to suit your facilities)
✅ An average of just 30 minutes per day, 5 days per week.
✅ YOURSELF! This programme is designed to be followed completely by yourself and without help from a training partner, which means you're in complete control
*Ball work is included in pitch drills where appropriate to challenge skill and technique under fatigue. 
✅ One-time purchase, LIFETIME ACCESS.
✅ This programme comes in PDF format with all videos and guidelines within so that you can easily follow the programme from your mobile device or desktop. After you complete your purchase you'll instantly receive an email with a link to download the PDF programme.
✅ For players aged 14+
✅ Includes 60 Day 100% Satisfaction Guarantee
 HURRY! SALE ENDS SOON