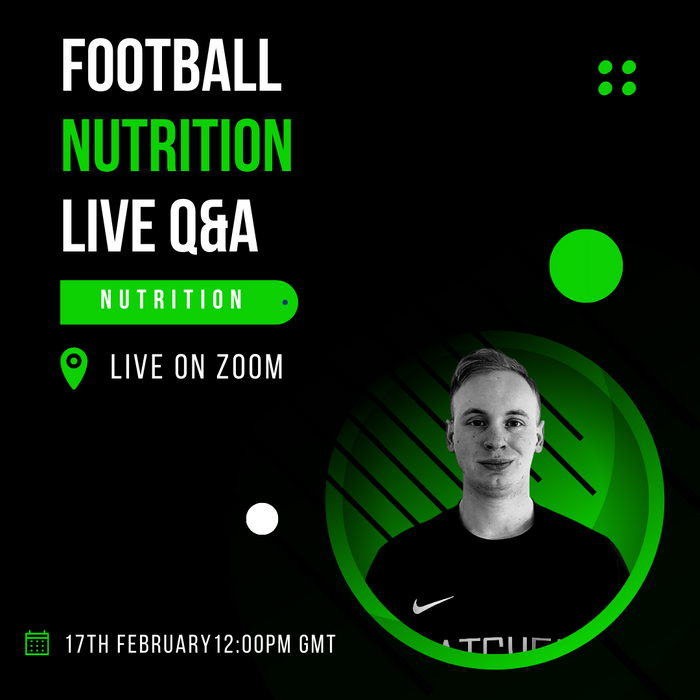 Nutrition Live Q&A Workshop Replay
Save

57

%
Original price
£39.99 GBP
Join James and football nutrition expert Anže Počkaj for a replay of this live Q&A session about football specific nutrition which was run on 17/2/23.
Anže is a former professional goalkeeper who suffered a career ending injury at the age of 22, at which point he decided to specialise in nutrition for footballers and has since worked with both professional and non professional players.
In this informative session we answered a variety of questions about how to fuel your body for optimal performance on the football pitch.
The session covers a wide range of topics, including meal planning, supplements, eating strategies, healthy vs unhealthy foods, smart times to have "junk" food, and how to stay consistent with your nutrition goals. You'll also learn tips and tricks for cutting fat and building muscle through strategic eating habits.

Whether you're a seasoned player or just starting out, this Q&A session is a must-watch. With practical advice and expert insights, you'll come away with a better understanding of how to fuel your body for peak performance both on and off the field.

Get your copy of the recording today and start improving your nutrition game!
Perfect for players, parents and coaches.

You will instantly receive the video recording of this workshop to your email inbox when you complete your purchase.
✅ Includes 30 days FREE community 1-1 support