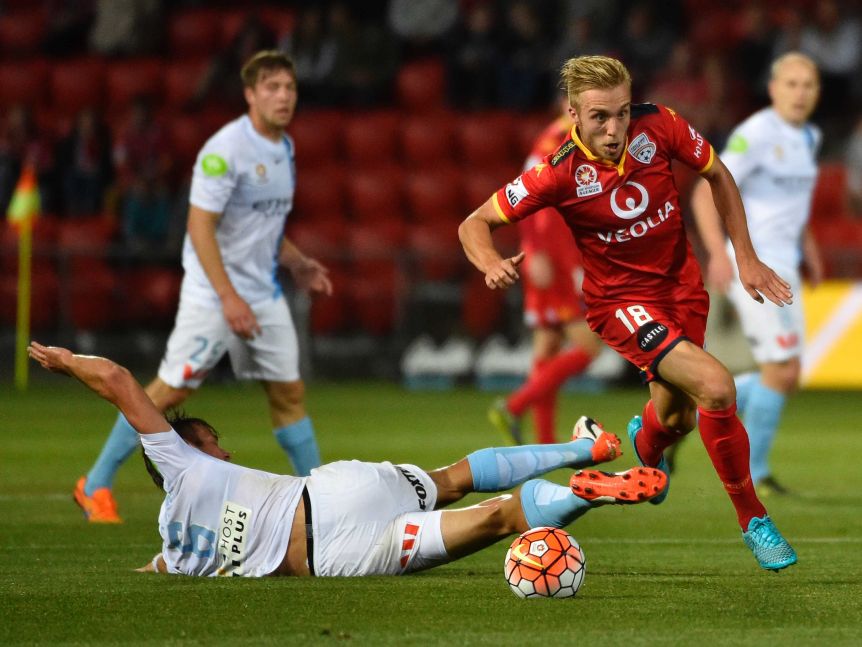 James Jeggo | Australia National Team & Hibbs
James is an Austrian-born Australian professional footballer who plays as a central midfielder for Greek club Aris and the Australian national team.
James was born in Austria before moving to Australia, where he played for both Melbourne Victory and Adelaide United (Hyundai A-League).

How many times per week do you train by yourself without the team and what do you focus on?
I do a lot of individual work in the gym. We don't do a lot of gym as a team so it will mainly be based around keeping a good base in terms of my strength work and a lot of injury prevention.

What extra training do you think has given you the biggest improvement in performance?
I think the extra work I have done in the gym has not only allowed me to become a fitter, stronger player but also more robust and steered me away from missing too much football through injuries.

Describe a typical day in your life (in-season)
I wake up, have a decent sized breakfast and will head in to training early enough to get any treatment done and get in the gym to go through a prehab routine (early in the week a strength session) before training.

Post training I will normally do a 10-15 minute cool down on the bike before going for a massage or an ice bath.

The rest of my day consists of normally going for a bite to eat or a coffee and generally relaxing.

In the evening I sometimes use recovery boots from the club and may do some foam rolling work if I have a few problem areas. I try to get to bed early enough that I get at least 8 hours sleep.

What is your favourite pre-match meal?
I generally like quite a simple meal. A portion of plain pasta, with a small piece of salmon and some cooked vegetables.

What do you usually eat or drink at half time?
At half time I will always have an energy gel and sip on a sports drink and some water.

What's your favourite post match meal?
Post match can depend on how I'm feeling and vary a bit but generally I like to have a nice pasta dish or risotto with some chicken and a salad.

Do you take any nutritional supplements and how do they benefit you? (whey protein, glutamine etc.)
Yeah I take whey protein after every training session and game and will often take magnesium as well. Both help me with repairing my muscles and making sure I am ready to go again the next day.

What methods do you use to help your body recover more quickly? (Massage, ice bath etc.)
Ice baths are a big one, both staying in there for a period of time and doing contrast baths. I find going on an exercise bike before and after training helps a lot as do compression recovery boots.

If you could offer one piece of advice to a young footballer who wants to become a pro, what would it be?
That you have to make being a footballer a lifestyle and not just when you are at the training ground. The ones who live like a professional 24/7 and are constantly doing the right things away from the pitch are the ones who often go the furthest.

What is the best piece of advice a coach/role model has ever given you?
To look at any type of setback or disappointment as an opportunity to learn, improve and grow.

When stepping up to first team level, what did you feel was the biggest difference between youth and senior football?
The competitiveness and physicality. You have to be able to physically compete and do that week in week out.

We'd like to thank James for taking the time to answer our questions and wish him all the best throughout his career.
You can follow James on instagram @jimmyjeggo and check him out in action below.