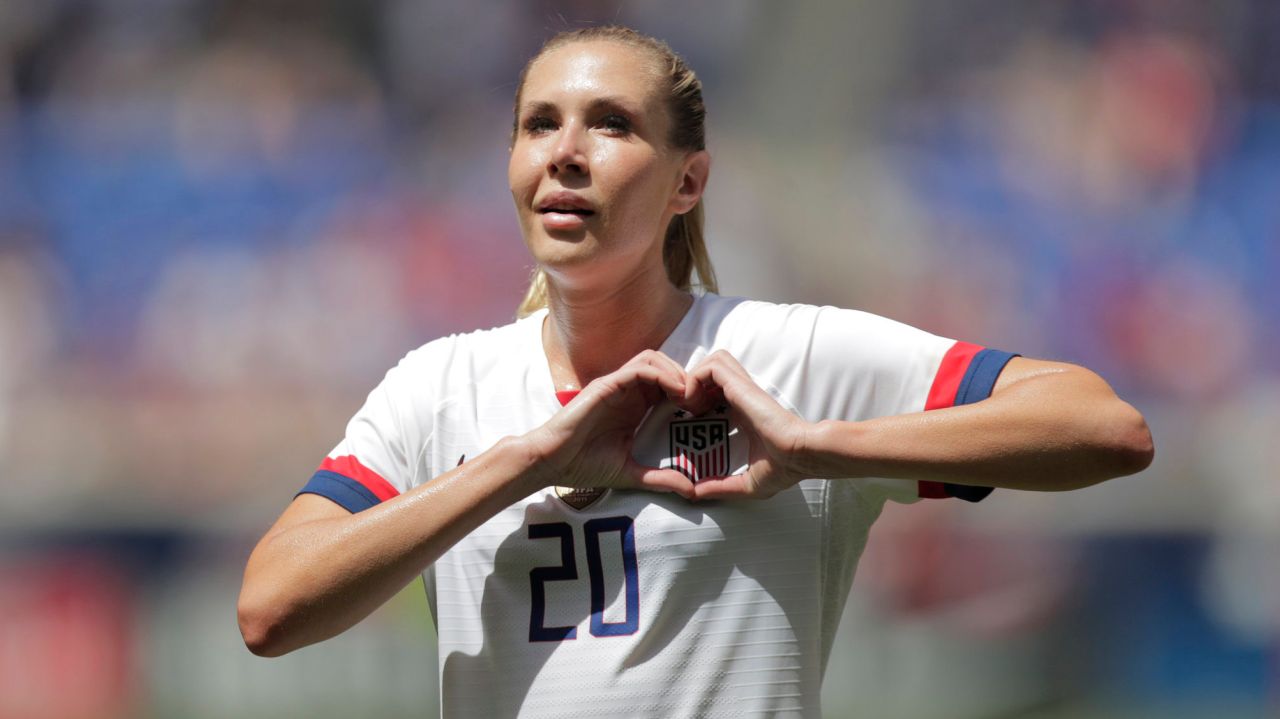 Allie Long | USA National Team & Gotham FC
Allie plays as a midfielder for NJ/NY Gotham FC in the National Women's Soccer League and the United States national team.

She made her international debut for the USA in May 2014 and has also played in Europe for PSG in the French 1st Division and represented the USA at the 2016 Rio Olympics.

How many times per week do you train by yourself without the team and what do you focus on?
Doing extra in season is one of the most difficult things to master. With travel in the US being so far and having such a high impact on my body the times I choose to do extra are always based on the week of games, travel and how I feel overall.

How my schedule is currently if I have a typical game week (meaning 1 per week) on Saturday. Sunday is recovery, Monday is off, Tuesday is training, Wednesday is a double day with training in the am, lift in the pm, Thursday off, Friday pregame.

Most of the time Tuesday's after training I'll spend 15-20 mins doing free kicks.

Wednesday's are the days I choose to do extra as well. If Tuesday I feel like I am still recovering from the game then Wednesday's are the days I do extra both on field and in the gym.

As always, everything I do is to feel my absolute best come game day. In season, that is my number one priority.
When we have international break I am with team USA where we are monitored very closely. Sometimes we get some time after training but the coaches main concern is preparing for the game and make sure we feel our best.

Out of season is a completely different story. At the end of my season I take a two week break and during that time I analyze my game. Where am I weak? Strong? Need to get better at? What do I want to look like when I play? Etc.

According to my specific goals I break up each day with a specific focus to my goals. I make sure to listen to my body and give myself a off day but at the same time on the days I train, I push my self.
I want to be the best in the world and I try to develop my game in accordance to what the best in the world at my position looks like.

What extra training do you think has given you the biggest improvement in performance?
The extra training that has given me the best outcome is playing in different futsal leagues with guys only. Most are from a Hispanic dissent and they are so good.
I want to think 3 steps ahead of my opponent and to do that I need to be forced to make decisions quicker and technically be able to pull it off.

Playing in these leagues have given me this unique repetition in being uncomfortable and forcing me to think faster. No other female in the NWSL or US women's national team plays in the leagues I do.

Also, to balance out playing in small, tight spaces, I do a lot of different ranges of passing on a big field. Being a holding midfielder I need to be able to spray balls on a dime. I also think doing speed and strength work has helped me physically.

Describe a typical day in your life (in-season)
In season a typical day is all about preparing for training and then recovering for the next training. All for the purpose of being my best come game day.

For a typical Tuesday, Training starts at 10:15. I wake up at 8-830. I eat breakfast grab a coffee and the paper. I like to do the crossword in the USA Today.
I like to think it wakes my brain up, gets me thinking and focusing. I get to training around 9:15.

First thing I do is foam roll, activate and stretch. I do a routine which differentiates based on how my body feels, what muscles are sore, not firing etc.

We have a team meeting at 10:15. Our meeting is a video session closing out the previous game and preparing for the next opponent. After the meeting as a team we do a pre-activation for 10 minutes and then train from 11-1.

After training I do a bit of extra, I get a shake, do an ice bath and eat lunch.

When I get home I like to relax. I will answer emails, read and maybe play a game of Call of duty haha. If it's nice out I like to sit outside on the rooftop of my building.

Usually later in the afternoon I will watch the game and specifically my clips from the game. I analyze them, writes things down I liked or didn't. I'm just starting to watch videos on upcoming opponents.

I never really got into it because I always believed soccer is so unpredictable and every game is different. I still believe that but I think players have tendencies.
So I am trying to figure out a way to study film effectively. This isn't something I always do on Tuesday I usually save it for Thursday but sometimes I start it on a Tuesday.

I try to get into the Normatec recovery legs while I watch anything on Tv. I own a pair and if I am just sitting there I might as well try to recover haha.
After that I make sure I eat a good dinner. I just recently cut dairy out and meat. I love animals but I am doing it for the performance benefits and recovery purposes. I want to see if it helps me.

At night I like to watch a show I am into. I wish I went to sleep at 10-11 but my body just won't. So I get into bed around then but don't fall asleep until 12-12/30. Which is something I am working on! Haha I don't advise going to bed late my body just says nope.

What is your favourite pre-match meal?
My favorite pre-match meal has changed since I cut out dairy and meat. Right now I like to have a big breakfast. I make sure I have eggs, oatmeal, fruits, avocado toast is my favorite as of late.

For lunch I always have a protein shake. My meal changes but usually involves sweet potatoes, vegetarian chili, salad with tofu, acai bowl. I try to change it up.

Right before the game I don't like to eat much. Banana with peanut butter is one of my favorite snacks.

What do you usually eat or drink at half time?
Half time I never drink just water. I always have electrolytes mixed with Gatorade or a sports drink. Maybe some bites of a banana.

What's your favourite post match meal?
I love a bowl from chipotle for a post match meal.

Do you take any nutritional supplements and how do they benefit you? (whey protein, glutamine etc.)
I take calcium, magnesium, zinc, vitamin D, Tumeric, iron and the protein I use is plant based. When I am with the National team our fitness coach slips in creatine into our shakes.

What methods do you use to help your body recover more quickly? (Massage, ice bath etc.)
Girls on the National team make fun of me for how much I do to try to help me recover. I make sure to drink a shake after training, Ice bath, wear compression pants, get into the Normatec legs, get a massage.
I have also done cryotherapy to help recover but I don't always have access to that so it isn't a consistent method.

If you could offer one piece of advice to a young footballer who wants to become a pro, what would it be?
Be specific in your training. Write your goals down. Even write your craziest dreams. Believe that if you work for it, it can be yours. Figure out the type of player you are and what your goals are. Work towards that specifically everyday.

When you fail, get cut, pushed to the back, get benched. What you do in those moments and how you react will define who you become.
Instead of accepting failure or quit, allow it to make you better. You can be whatever you dream as long as you are willing to work for it.

What is the best piece of advice a coach/role model has ever given you?
Best advice when chasing my dream of making the National team was from a pastor named John Gray. He said "don't expect people to understand the dreams you have, they didn't put them there, God did."

Another good piece of advice was to focus on what I can control and stay in my lane. Basically let go of everything out of my control and worry about myself. It's easy to try to figure out what a coaches reasoning is but that is a waste of energy.

When stepping up to first team level, what did you feel was the biggest difference between youth and senior football?

The biggest difference is the speed of play and physical load. The NWSL is so athletic and the travel is really hard on the body. Speed of play is way faster and the game is more physical.

We'd like to thank Allie for taking the time to answer our questions and wish her all the best throughout his career.

You can follow Allie on instagram @allie_long_ and check her out in action below!