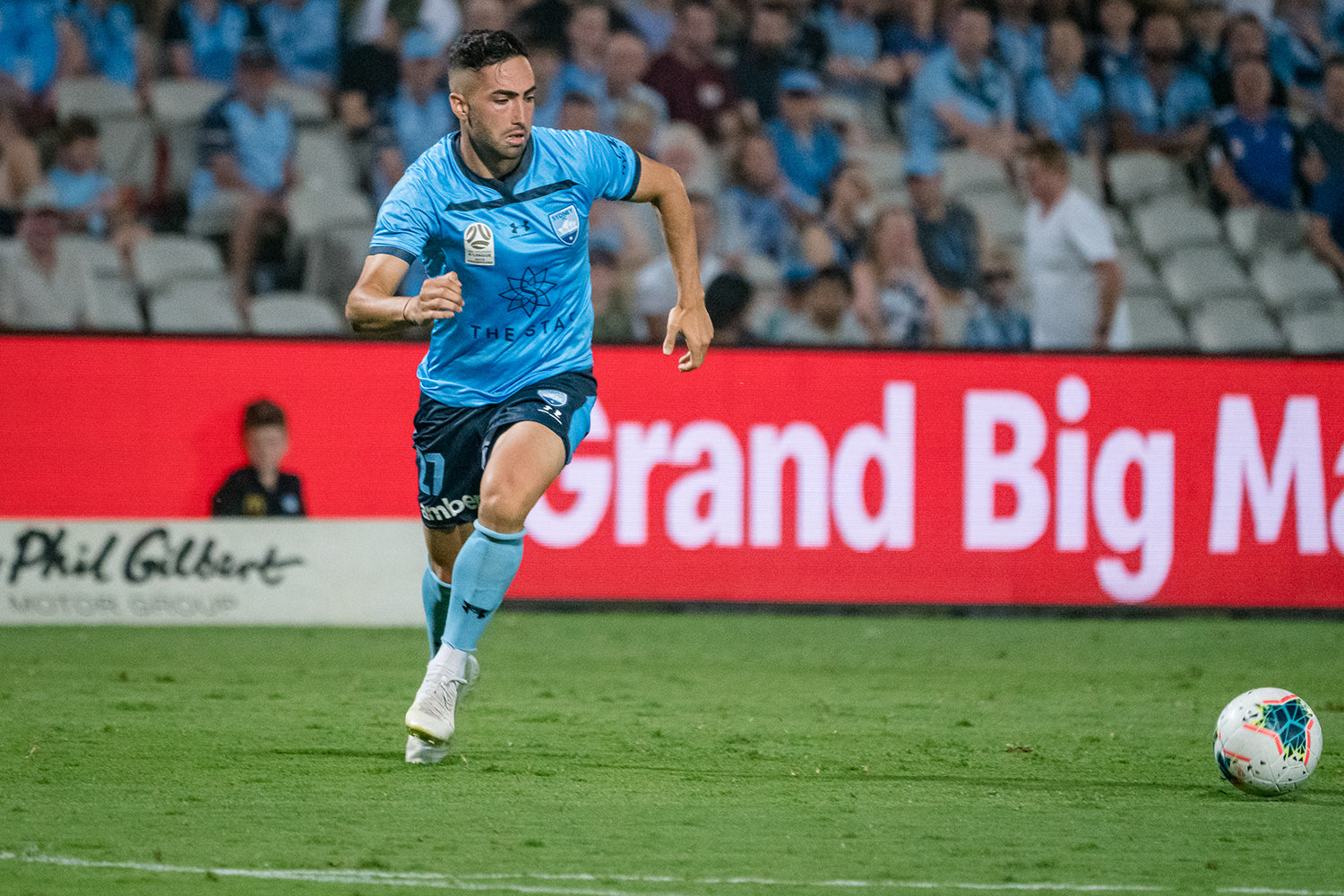 Jordi Swibel | Marconi Stallions (Ex Western Sydney Wanderers & Sydney FC)
Jordi Swibel gives us an insight into his daily training habits below.

Jordi has graduated from the youth system and made his professional debut for Sydney FC in the Hyundai A League in January 2020, and has also since played in the Asian Champions League.

How many times per week do you train by yourself without the team?
I usually do an extra 5-6 sessions a week on my own. I focus on upper and lower body strength, core and mobility.

What extra training do you think has given you the biggest improvement in performance?
Most definitely would have to be speed training. Working on my speed has taken my game to another level and made me a more lethal attacking player.
Also, as a striker staying back after training and practicing finishing, 50 shots everyday adds up during the week and the season and makes finishing second nature which is so important for a striker.

Describe a typical day in your life (in-season)
7am - wake up
7:30am - drive to training ground
8:15am - arrive at training ground
8:30am - breakfast and a coffee
9:15am - foam roll and mobility work
9:30am - prehab
9:45am - strength work
10:30am - training on pitch
12:30pm - ice bath post training and protein shake
1pm - lunch with team
1:45pm - arrive home/nap
3pm - snack
3:15pm - extra gym session
4:30pm - protein shake and down time
7pm - dinner
10pm - bed
What is your favourite pre-match meal?
I don't love playing on a full stomach, I always like to feel a bit lighter. But i usually have some banana bread and yoghurt if it's an early kick-off.
For night games, pre match will usually be some pasta with fish or chicken and a yoghurt.

What do you usually eat or drink at half time?
Water and gatorade. Sometimes a couple of lollies (sweets/candy) if they're floating about, but I usually just try to replenish with fluids. If i'm feeling like I need a real boost I'll have half a banana.

What's your favourite post match meal?
Sushi or pizza.

Do you take any nutritional supplements and how do they benefit you? (whey protein, glutamine etc.)
I usually have whey protein after training, it helps rebuild the muscles after hard sessions in the gym and on the pitch and aids recovery. I also take vitamin c, fish oil, probiotic and magnesium daily just to stay on top of day-to-day health.

What methods do you use to help your body recover more quickly? (Massage, ice bath etc.)
I use all methods, any 1% extra I can get i'll use. Massage, ice baths, massage guns, game ready, cryotherapy, normatec.
But the most important tool is sleep, it is the most underrated tool to aid recovery and is so beneficial for athletes. Also hydration and good nutritious food.

If you could offer one piece of advice to a young footballer who wants to become a pro, what would it be?
Be the hardest worker in the room, leave no stone unturned and be so deliberate in your pursuit for success that you inspire others to follow in your footsteps.

What is the best piece of advice a coach/role model has ever given you?
Patience is key. Everyone is on their own path, yours may looks different to others but keep faith in yourself and you'll get to where you deserve to be.

When stepping up to first team level, what did you feel was the biggest difference between youth and senior football?
The physical demands were so much higher. The pace the game was played at, even the pre training rondos were so much quicker and higher quality.
Also how big little mistakes are, losing the ball would lead to being punished with higher quality players, whereas in the youth team most of the time you could get away with making a couple of mistakes in training and games.

What do you think has given you the edge over other players you've played with or against throughout your career who haven't made it as far as you?
Hard work, dedication, persistence and patience.

We'd like to thank Jordi for taking the time to answer our questions and wish him all the best throughout his career.
Follow Jordi on instagram @jordi_swibel to stay on track with his A League Career!